Licensed Therapists
Danielle Pientka, LCSW-C
Maryland Certified Licensed Clinical Social Worker, License #15711 through 10/31/25
Danielle Pientka, LCSW-C received her Bachelor of Arts in Psychology in 2003, then her Masters of Science in Social Work in 2005. She has practiced in a variety of settings including foster care, juvenile services, schools, and private practice. She specializes in working with children and adolescents, although she has worked with adult individual clients, couples and families as well.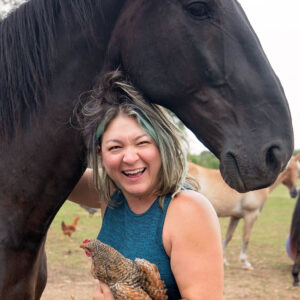 She uses a variety of techniques in therapy, but she has specialized in animal-assisted therapy models with a focus on equine-assisted therapy. She prefers experiential, psychoeducational, and solution-focused therapy models as she finds that practicing healthy behavior and thoughts can have the most impact in helping us meet our goals in therapy.
---
Training
As a social worker and therapist, I am required to take routine trainings called CEUs to stay up to date on the latest diagnostic criteria and therapeutic models. I also completed over 3000 hours of clinical social work experience and 144 hours of supervision hours to receive my LCSW-C. A lot of my experience has been with therapeutic models that are solution-focused and experiential. This is not the complete list of my trainings over the years, but focuses on trainings with information that I use frequently in my practice.
Animal-Assisted Therapy Trainings
Animal-Assisted Play Therapy, Level 1 Training with Traci Faa-Thompson and Lucy Llewellyn (2023,
EAGALA Training, Equine-Assisted Therapy (2007)
EAGALA Conference, 2004:

Recalibrating your EAP team
Horse training simplicity
Recovery from major mental disorders
EAP as an education model vs a therapeutic model
Experiential therapy: A safe stage to examine our human moments
EAP business plan writing
Head, heart and hands

EAGALA Training, Equine-Assisted Therapy (2003)
Animal Assisted play Therapy with Maltreated Children and Their Families (2013)
Animal-Assisted Interventions: Incorporating Animals in Therapeutic Goals & Treatments (2022)
Animal-Assisted Play Therapy®: Meeting Clients' Therapeutic Goals One Paw at a Time! (2022)
ADHD Trainings
ADHD-Certified Clinical Services Provider (ADHD-CCSP) training included:
Changing the ADHD Brain: Moving Beyond Medication (2023)
Russell Barkley, Ph.D. on ADHD in Children and Adolescents: Advances in Diagnosis, Treatment and Management (2023)
Rethinking ADHD: A New Treatment Approach (2023)
ADHD, Relationships, and Sex: Strategies to Overcome the Over/Under-Functioner Dynamic (2023)
Psychopharmacology: Essential Updates for Mental Health Professionals (2023)
Adult ADHD: Targeting Executive Skills to Manage ADHD in Adults (2023)
Extended Adolescence – When 25 Looks More Like 18: Clinical Strategies for Clients Struggling to Meet the Demands of Adulthood (2023)
Identifying and Treating the 1 in 5 students with ADHD and Learning Disabilities who are Returning to School Misdiagnosed and Misunderstood (2023)
CBT Strategies for Kids and Adolescents: Supporting Students with ADHD and Anxiety (2023, course focused on school refusal)
Other Trainings
A Practitioner's Guide to Autism Assessment: A Strengths-Based Approach (2023)
Food and Mood: A Therapist's Guide to the Role of Nutrition in Mental Health (2021)
The Ultimate Grief Therapy Treatment Toolbox (2021)
The Art and Ethics of Talking about Death and Dying (2021)
Tools of the Trade: Exploring Concrete Techniques that Promote Client Progress (2021)
Glass Half Full: Exploring the Power of Positive Psychology (2021)
Level 1 Training on Couples Therapy with the Gottman Institute (2011)
Trauma, PTSD, and Grief (2013)
Hardwiring Happiness: The Brain Science of Contentment, Calm, and Confidence (2013)
Treating Complicated Grief in Children and Adolescents (2007)
Comprehensive Child Therapy: Practical Approaches, Treatment, and Interventions
Ntu Therapy Model, including instruction in deescalating conflict and family interventions (2006)
Attachment Training with Adoptions Together
---
Read reviews on: HealthGrades | Google Maps | Yelp | WebMD | Vitals | DocSpot | ZocDoc
I am including these links because I think it is helpful to see what others like/dislike about a therapist. It's a good way to determine therapist fit before committing. But I'm a small practice and it's awkward for people to leave reviews for therapy (or certain types of medical practices), so generally reviews only address how easy or difficult it is to contact a provider. But I have profiles on these sites so you're welcome to see if there are any reviews that are helpful in your choice of therapist.
---
The Farm and Animals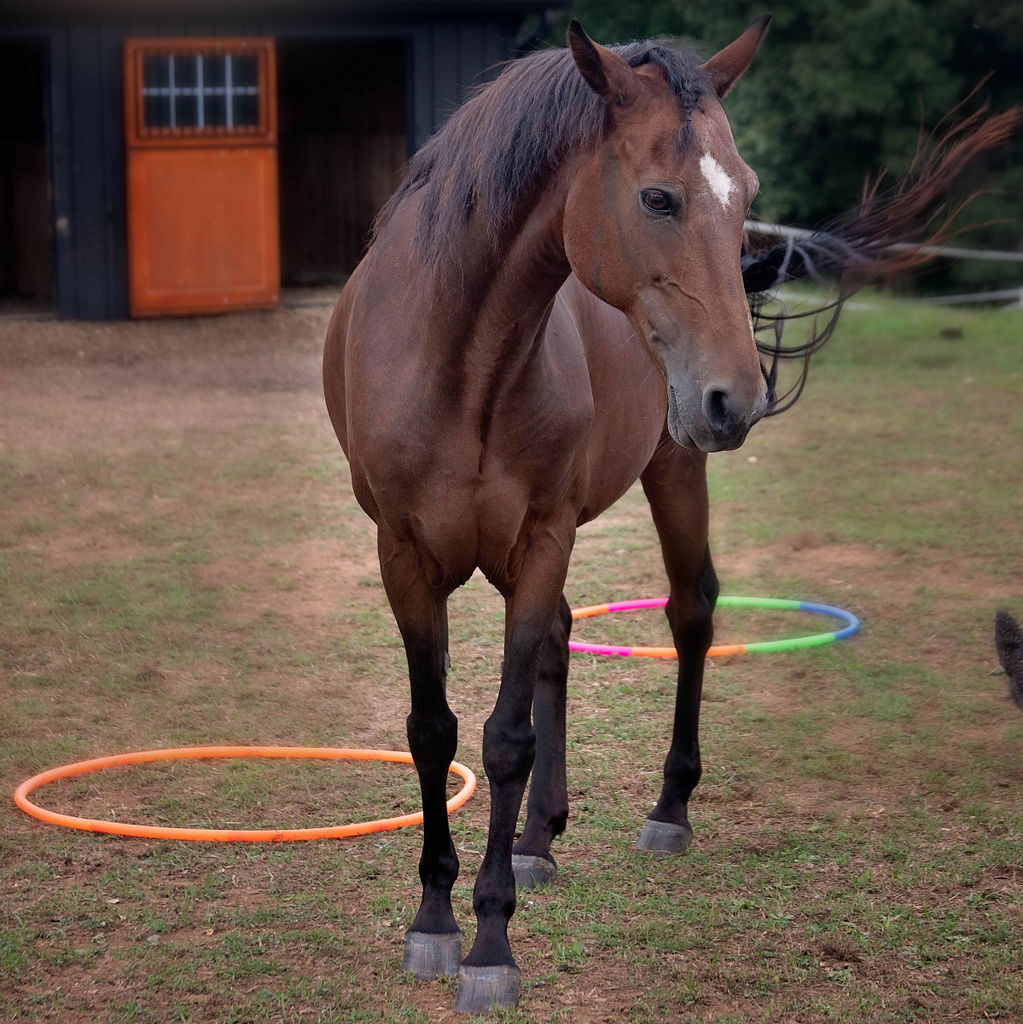 Piper
Piper is a Morgan horse mare that I adopted in November 2020. She was originally used as a carriage horse for the Amish, but she was auctioned off once she got older (at 12 years old). Unfortunately, she ended up at a kill pen before she was rescued by a local organization.
When I saw her listed on the rescue's site, I knew she would be the perfect addition to our farm. When she first came to us, she didn't know how to eat treats or accept affection. She kicked me twice when I first started caring for her, doing routine tasks like brushing her. Now she gallops over to greet visitors, loves carrots, apples, and other horse treats, and "talks" to me when I call to her.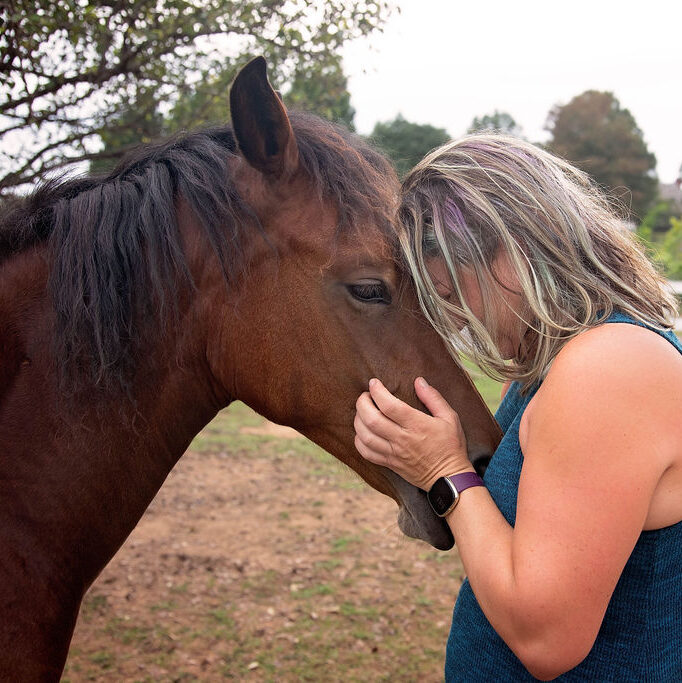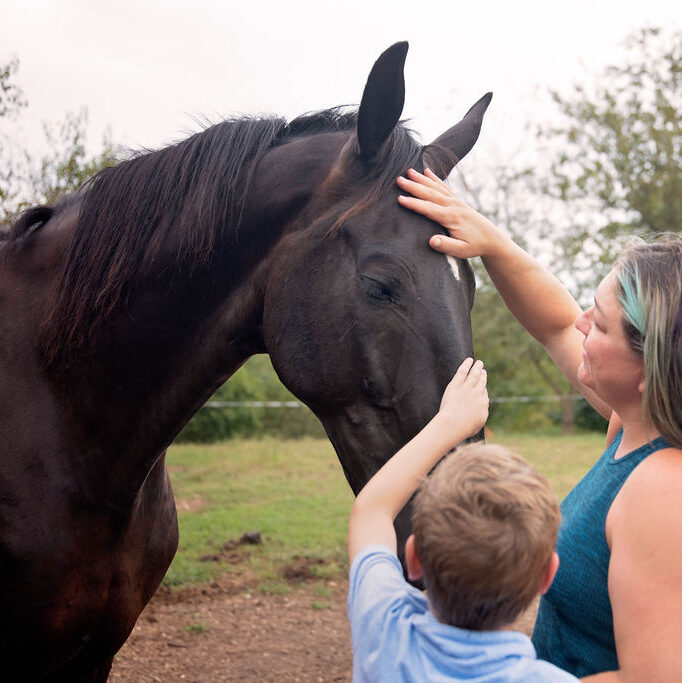 Luna
When I first adopted Piper, she was underweight. Within a month, she was quickly catching up and even looked a bit more round than I expected. I had our vet some out to make sure she was okay, and we discovered she was pregnant with Luna!
Piper gave birth to Luna on June 4, 2021. They're best friends now, but Luna loves running circles around her mother.
Luna is still young so she's rambunctious and loves to play in the field. She's learning good manners around people vs. horses. While she's not able to be ridden until she's four years old or older, she loves being brushed, pet, and loved on. Despite seeing it many, many times, she is scared of the Amazon truck and gallops across the pasture whenever she sees it come up the driveway.
Solace
Solace is thought to be an old Amish driving horse. He's a big guy, standing at 17H tall! While large, he's truly a gentle giant. He loves being loved on, treats, and getting into mischief. He's our Houdini who likes to try to escape his stall to get into the grain bin.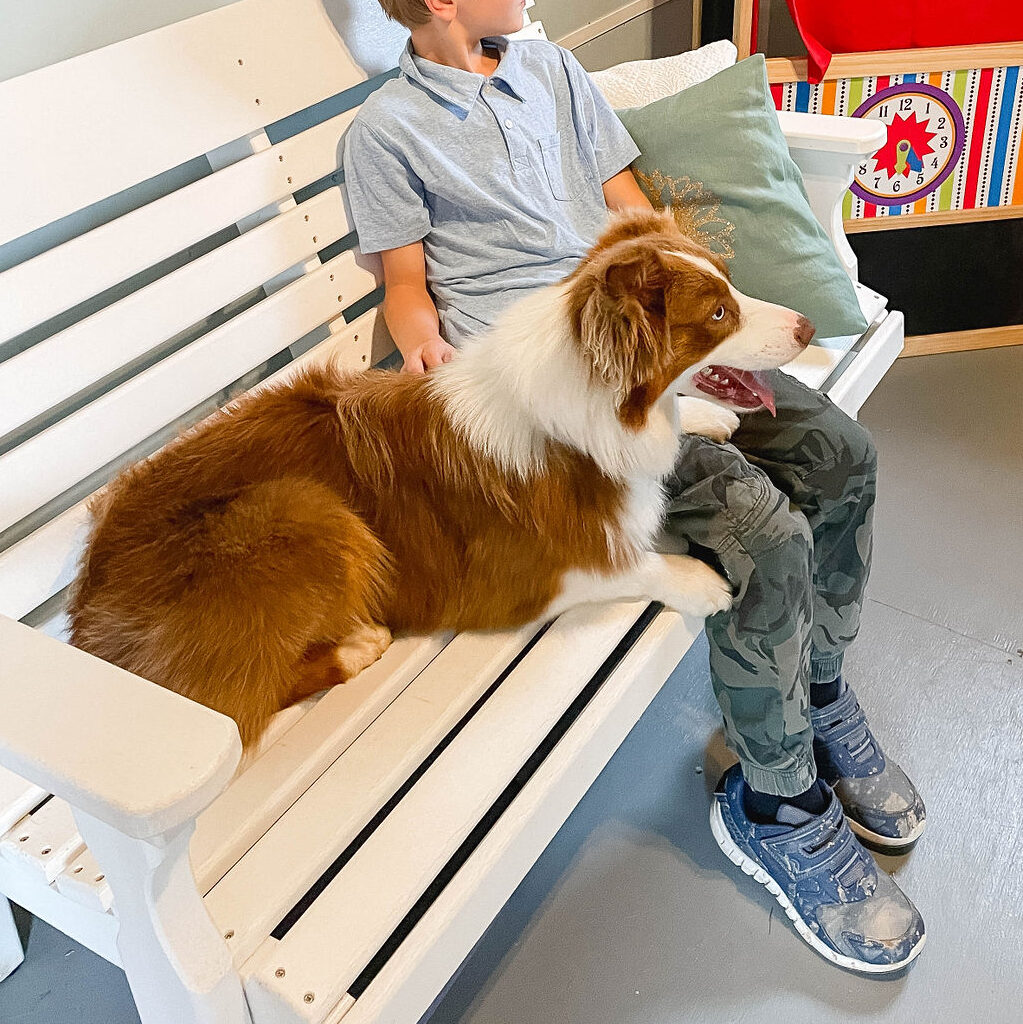 Pepper
DOB: May 24, 2021
Pepper is a one year old Australian Shepherd puppy. She's sweet, but energetic. Her favorite thing to do is play fetch or Frisbee, but she also enjoys sitting with her head on your lap to have her head or ears rubbed. She LOVES food.
If you didn't notice, Pepper has the same birthday as her friend Rocky!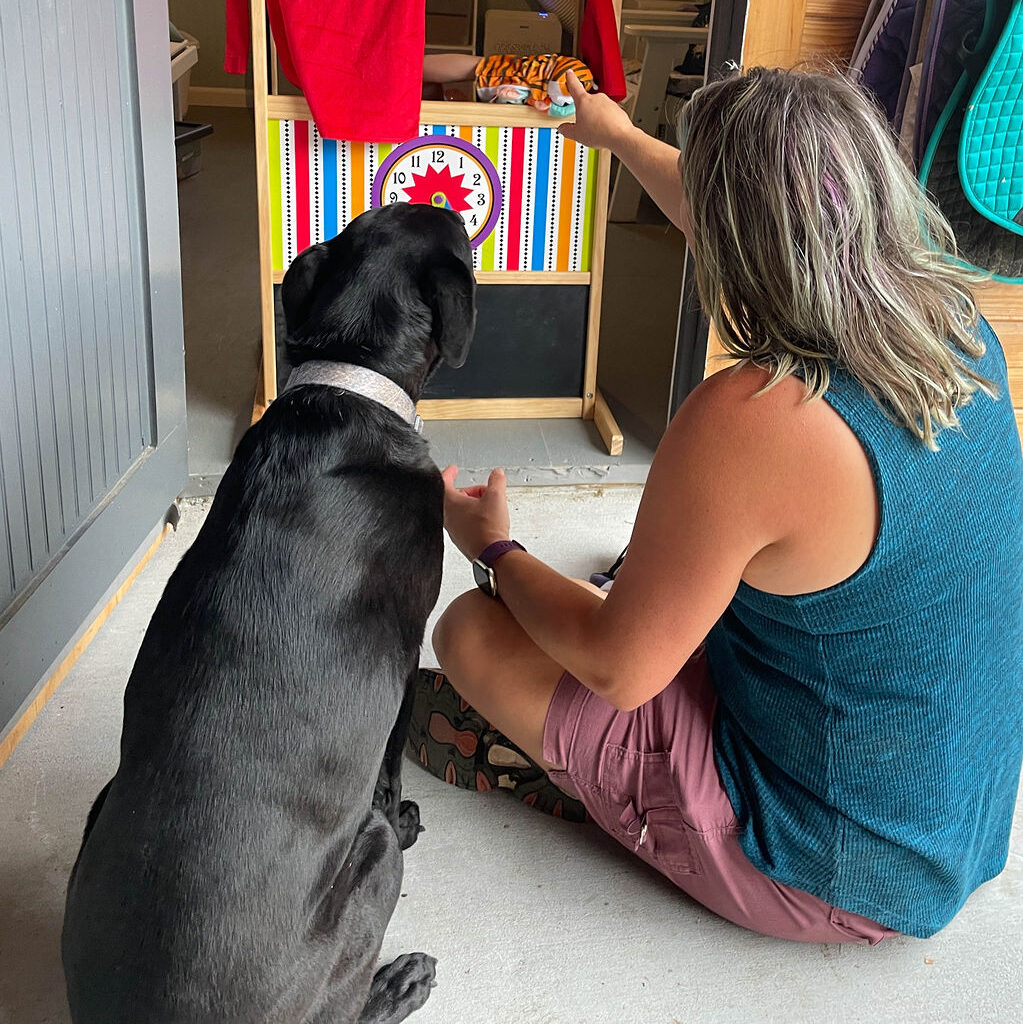 Rocky
DOB: May 24, 2015
Rocky was adopted as a puppy from a local rescue. He is a mixed breed who looks a lot like a Black Lab. He's older than Pepper so he's much more calm. He loves to sit stoically while people pet him.
While he is generally a calm dog, he also can be a bit nervous. We believe he may have been found in a storm drain as a puppy as he is petrified of them if he sees one on a walk.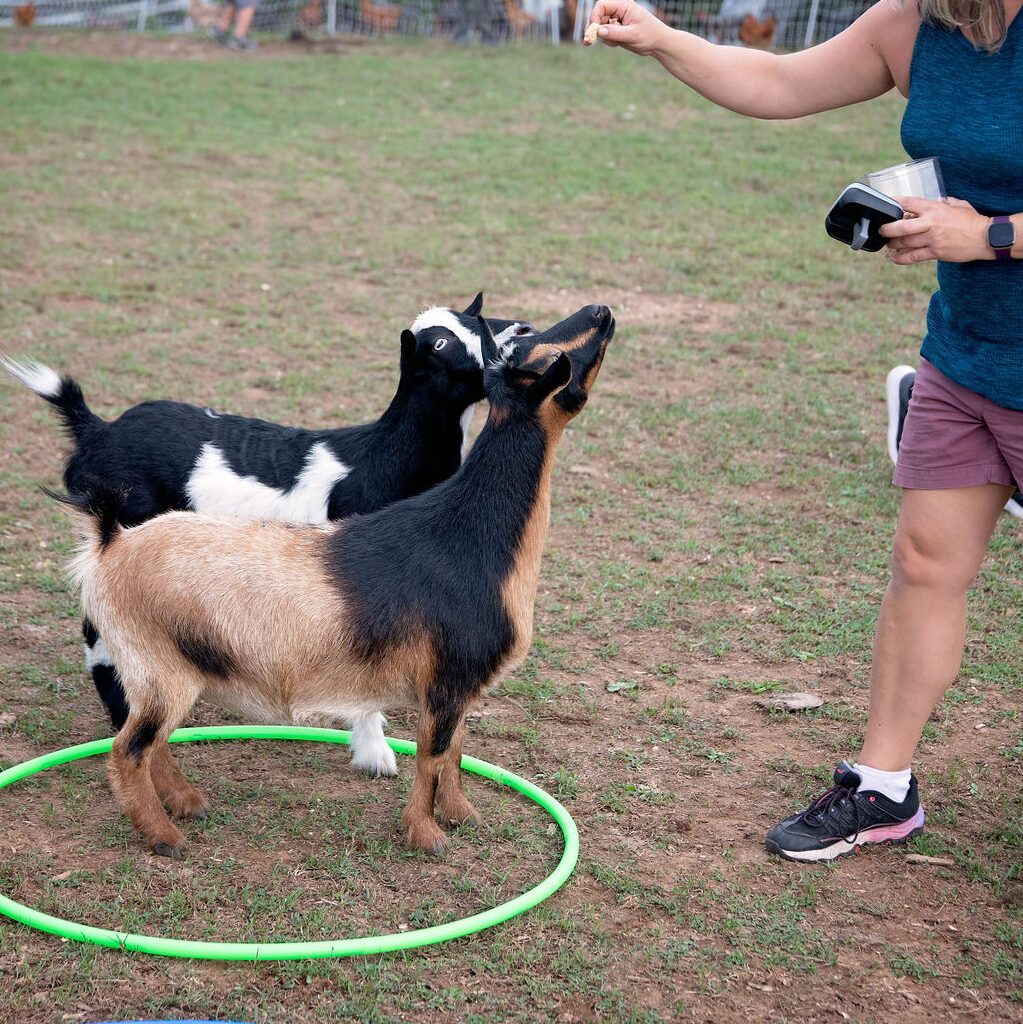 The Goats
Ivy, Timmy, and Juniper are the farm goats. They love animal crackers and attention.
Ivy is my oldest goat and she's the brown goat with blue eyes. I love when she "smiles." She's the boss of the herd and likes to let everyone know it. She LOVES having her head scratched.

Timmy is the black and white goat. He's spunky and loves hanging out with people.
Juniper is the black and brown goat. She's cautiously friendly- if you have the right treats.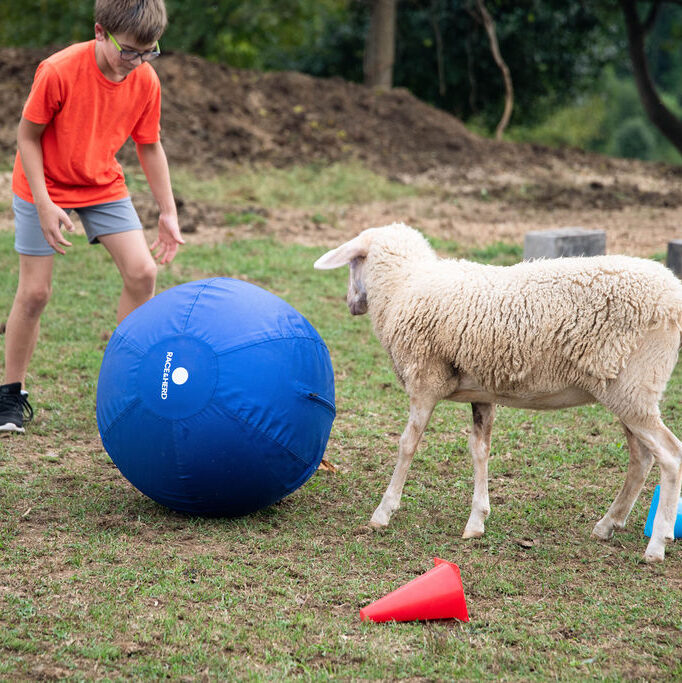 The Sheep
Nom Nom and Elsa are our sheep. Throughout the year, they'll be sporting new hair styles after they are sheared (for their comfort).
They're sweet with people, but slow to warm up and like many domesticated herd animals, they can be anxious and nervous around new people.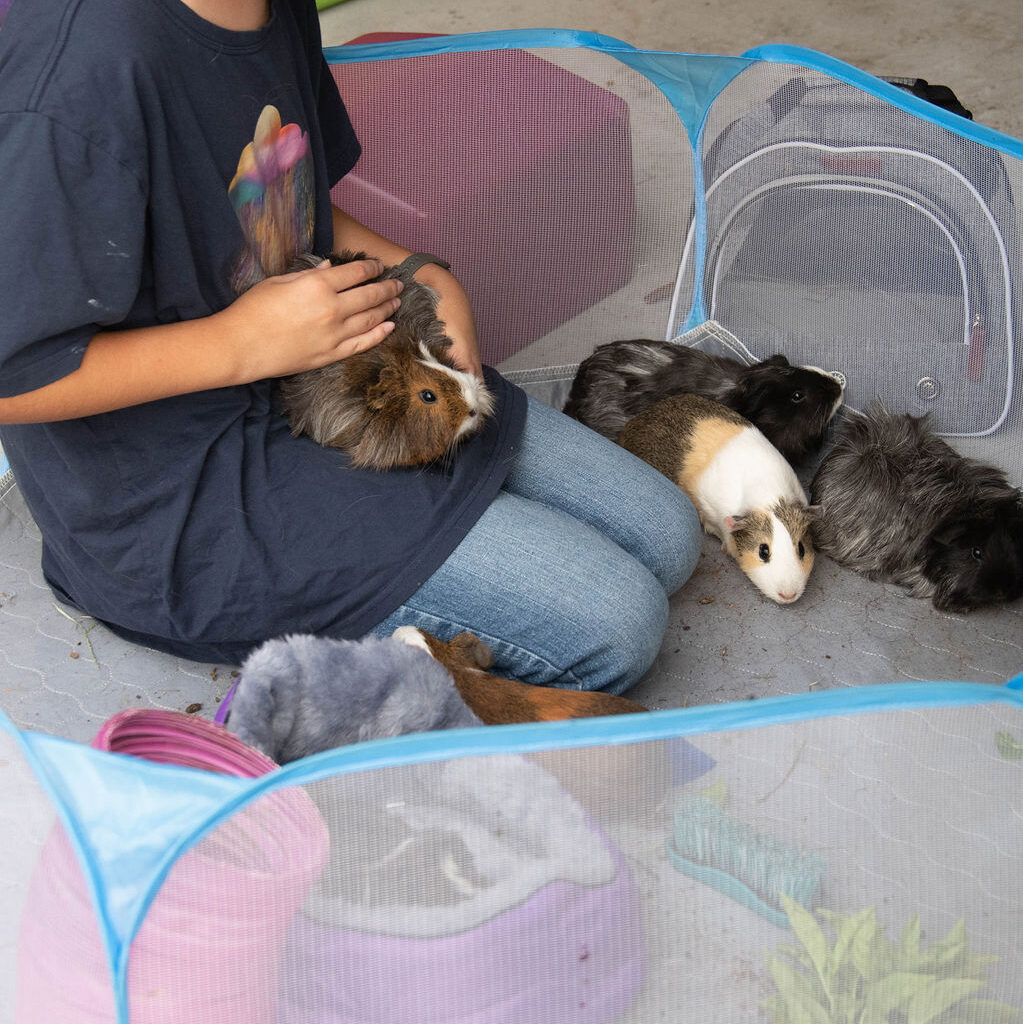 The Guinea Pigs
We have female guinea pigs who can be nervous, but sweet. If you hold them carefully, they'll sit quietly in your arms. They make the sweetest noises when they're happy (if you have Alexa, ask her to play soothing guinea pig noises!).
We also have some other farm animals including our rabbit, May, and a flock of chickens.